Let CampervanCulture.com introduce some friends of ours. We became friends with Ringo and H many years ago after meeting at a VW show and hitting it off right way. Over the years our kids have become the best of friends and grown up together over the summer months when we used to hook up for wild camping every now and again before they moved to Poland. After hearing of a trip they did this time last year (2013) in the wilds of Scotland I asked Ringo if he wouldn't mind doing an article for CVC about the trip. We have been sitting on this one all summer until now when we thought you guys might appreciate it the most. So please get comfortable and read this amazing story of an epic trip made by Ringo, H, Fern and Jules in their amazing VW LT Florida camper van.
Scotland December 2013
It not very often you get sent home from work with six weeks paid leave to do what the hell you like except "not work". But in late November after resigning from my job to work at a competitor, this happened to me. I won't say I was wondering what I would do with myself for six weeks – I shook hands with my colleagues and friends and skipped on out of there with some great ideas…
The six weeks turned out to be only three and a half – we had already committed to spend Christmas for two weeks with my family in Miami. No disrespect to my father whose seventieth birthday we were celebrating in Miami, but I couldn't help feeling a bit cheated of a six week adventure in the van. Of course, I would never tell anyone I was such a selfish self-centred fool like that – so no harm done.
We had over three weeks to live it up. My wife (the lovely H) generally takes any situation by the balls and kicks the arse out of it and this was no exception. Three weeks but what to do?
It was late November. In the UK, that means winter. Short days, wind, rain and possibly some snow in December. As it happens, it's not that much better in the rest of Europe within VW LT range – so the chance of nipping off in the van for some winter sun was not an option. There was only one thing we really wanted to do and that was take the kids to the French alps for their first skiing holiday (I shall add at this point we snow board very mediocrely but are brilliant at pretending we are seasonaires and love it with a passion). That was until someone had a brilliant idea.
Scotland. Scotland in December.
"WTF? – Are you Insane?" Cried my imaginary friends. No – absolutely not. Let me explain.
If you go camping in summer in the UK and it rains for a week you feel robbed and pissed off (I have felt this many times). If you go camping in the UK for a week in winter and it rains for a week (although it never rains for a whole week solidly that I can remember) you say "it's winter for God sake – of course it's raining". This is why I love winter camping – every day you get that's not raining is a bonus. It's a delight. It's a treat. It's the day you remember. If it snows – well what's not to like about snow? In all seriousness if it snowed then we would have headed for the cairngorms and gone snowboarding – result!
Also – and here is the stroke of genius in our minds, winter is probably the only time of year you can go to Scotland. We had always wanted to go – but there was no chance we were going to spend two weeks in summer getting rained on and eaten alive by midges (we feel the same about England except the midges aren't such a pain). Annual leave from work is far too precious for that…
On the 29th November we left Nottingham and headed north with a very vague plan of going to the West of Scotland, heading up to Oban, maybe over to Mull and then up into the highlands. Fancy free and bursting with enthusiasm. Life is good.
A quick overnight stop at friends up the road in Sheffield and then we were off. Via the lake district. The lovely H had never seen a lake in the lake district so we ticked that off too. Actually – it's funny how this happens, but we met a guy there who told us about quite a few sleepy spots in Scotland. At the time I thought he was slightly mad – but regardless, this was some of the best advice we got all through the trip. Mainly because we didn't see anyone else during the trip but hey ho…
Up to Glasgow in no time, we headed past Loch Lomond and towards Inveraray where we learnt our first lesson of the trip. We passed the oyster farm and laughed out loud as we imagined all the fresh seafood we were going to eat over the upcoming weeks. We should have stopped because we didn't see oysters for sale in Scotland again. If you see something you want stop and get it. You might not get the chance again. Not quite as cool as "The double tap" rule from Zombieland – but definitely in the top three of rules for visiting Scotland in December.
Inveraray turned out to look like a tired seaside town. Mostly due to grey December weather I guess. Anyway, a quick ice cream for the kids and we headed off to the coast on the lookout for a sleepy spot. We had been tipped off about a known spot on the coast below Oban, but there was no rush (don't you just love saying that).
Anyway, west Scotland is basically full of peninsula's with roads up them. Small roads. We choose one that looked nice because it clearly followed the coastline. It was dark, but we found a small lay-by right next to the sea. Unfortunately it was too wet to get the mighty florida all the way on it – but we were off the road and it wasn't exactly busy.
The lovely H and I faffed around for a bit ensuring we didn't get stranded in mud (waffle boards are essential) and then I set about getting a fire going on the beach.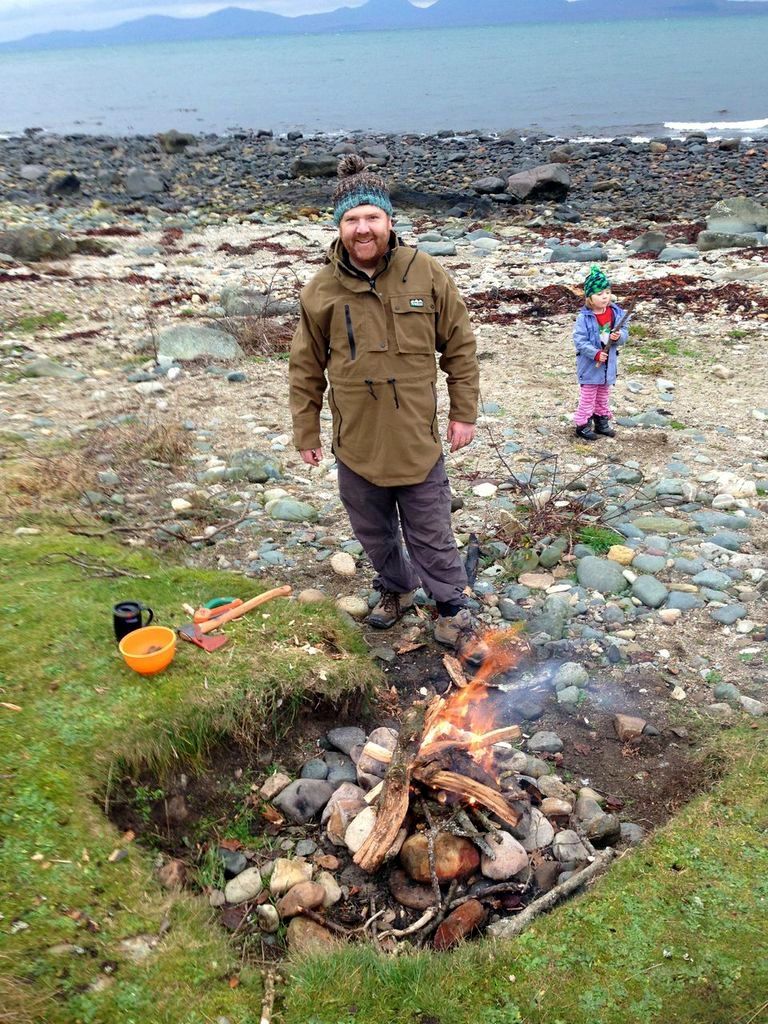 Bizarrely it was still 6 degrees C and felt positively barmy. The whole family enjoyed the fire. I chopped wood, even the Fernster ate some roasted welks and cockles we had picked from the beach. The hairs on the back of my neck stick up now just thinking about it. This was my utopia. This was why we had come to Scotland. This was the dream.
To top it off the next day the lobster pot produced three crabs which was great fun. Too small to eat but a delight to hear the kids giggles. Hee hee.
Then we made a mistake. We left. I kick myself now because there was no rush but the allure of adventure moved us on. It was a while before we found a spot like that again.
Life caught us up and we headed to Oban to deal with it. Why people still insist on getting sent a fax is beyond me. Also we found a campsite and charged up the batteries.
In between printing documents and faxing signed versions back, we headed south again to a sleepy spot we had been told was the best in the world.
After a 5 mile drive up a track we ended up in a car park on the end of a peninsula. Lovely sheltered spot with some small hills that the Fernster loved practicing her rock climbing on. There was no beach but a pier which we fished off. I say fished but basically I just ensured Fern didn't fall/jump in. I really wished we had packed her life jacket but nevertheless Fern enjoyed casting and reeling back in whilst I held on to her coat hood. She is only five and I am immensely proud of her. One day she might actually catch something but considering she hasn't yet her enthusiasm for my favourite pastime is staggering.
It was clear the kind people who said this was the best sleepy spot in the world didn't have any children due to the lack of beach and us being scared witless of the kids drowning – but it was a nice one. As a bonus we caught two crabs, two gurnard and a codling in the lobster pot. Get in!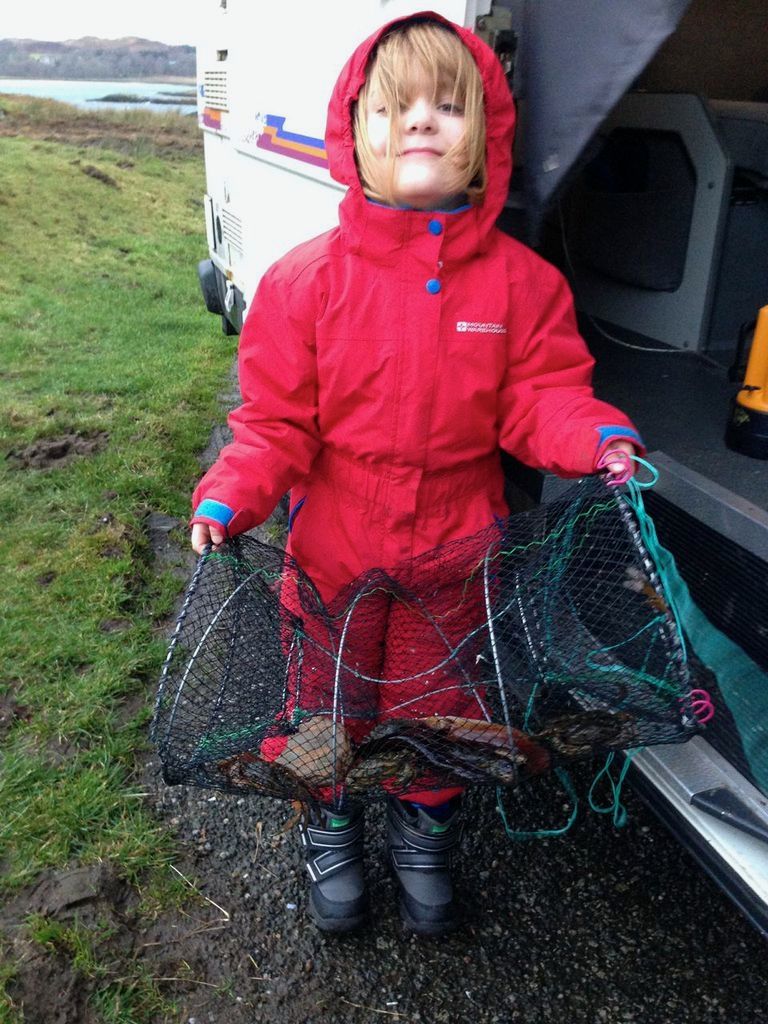 More faxing moronic estate agents and we headed north to Glencoe. The lovely H laughed at my tales of being battered in a tent by the relentless gales in the red squirrel campsite many years ago. It was uncanny how you could hear the wind coming down the valley five minutes before it pummelled your tent and smacked you in the side of the face. Oh how we laughed. We drank beer in the Clachaig Inn and swiftly got reminded of the change in life since my last visit. No kids in the walkers bar.
We drove up the valley and parked in a viewing spot for the night. There had been bad weather warnings but it was too warm to snow in the petrol pump attendants opinion. He must have lived in a brick house because he didn't mention anything about wind.
We ate dinner, chilled in front of a film and had an early night.
I woke up at 02:00 to find the van rocking violently. It didn't seem to bother my girls though who were all snoring soundly. At 05:00 I was very worried. The wind was incredible and the van was being battered. Our thermal screen got ripped off and was hanging on precariously so I made the decision to open the sliding door and retrieve it.
Now I've ridden a motorbike in excess of 100mph a few times (on private roads of course) but nothing could of prepared me for what was about to happen. I stepped out of the van and was very nearly blown off my feet. I clung to the van and very quickly grabbed the thermal blind. The strangest thing was it felt like I was in a vacuum as I was find it impossible to breathe. The wind just blew away any air out of my mouth. I got back into the van shocked. God knows how we didn't lose half the contents of the van to the wind but we didn't. I got the girls up and drove down the valley to find shelter.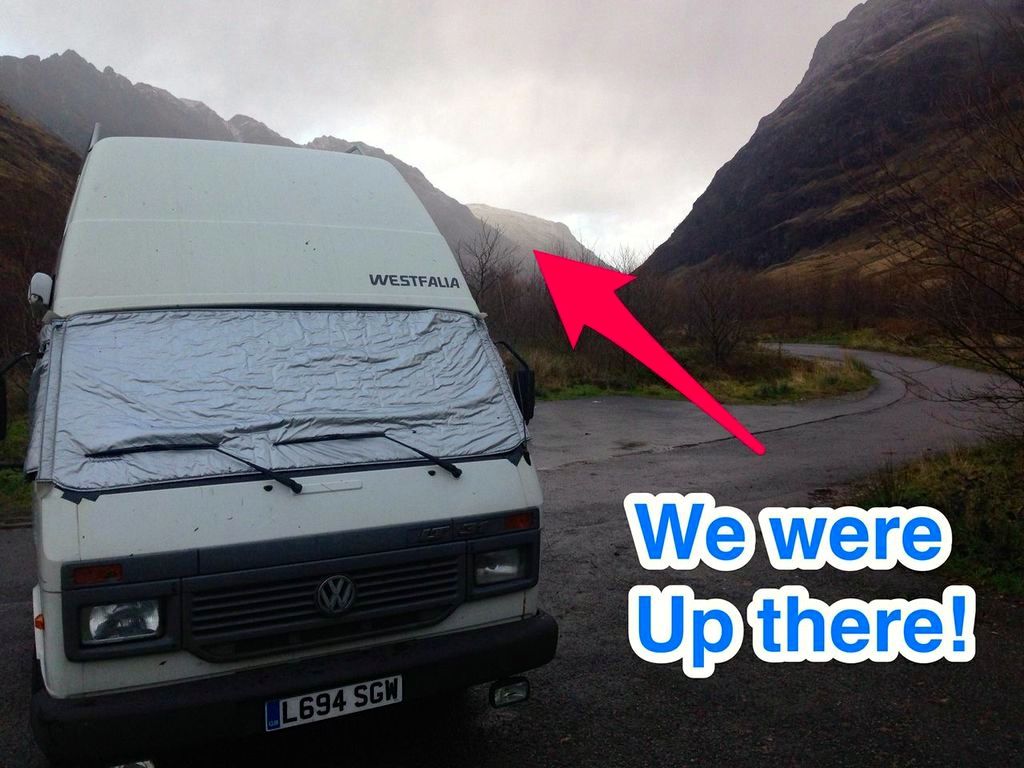 We found a car park which was still windy but very sheltered in comparison. Through the glare of the headlights through the rain we saw a robin red breast clinging to a branch for dear life a foot from our windscreen. "Poor thing" and "cool" came to mind.
Turns out we were in the windiest part of the country and it had caused all forms of havoc. 120mph winds apparently. More like 160 we declared.
It calmed down after that and we spent a couple of days chilling and walking around Glencoe. It is nice there.
For some reason I still find myself thinking quite a lot of that night and how windy it was. I wonder if I had known then how dangerous it felt outside the van would I have still gone and retrieved the thermal screen. Probably as I'm a bit tight and it was quite expensive!
That storm affected us in a minor way (homes and life's were lost so let me be clear, I know we were lucky and I'm being a selfish prat just saying this). It ruined every beach on the west coast. Every bit of litter those filthy trawler men chuck overboard ended up on land. Oil drums, crates, vinyl rope, netting was on every beach we visited from then on. There was no foraging to be had either – all signs of shell fish had gone. Gutted.
Anyway – we didn't know this at the time fortunately and headed of up north for more adventure.
While in the Lake District the very nice hippy told us about a sleepy spot right next to the beach near Arisaig. After a bit of asking locals we found it and spent a lovely two nights there.
Highlights were:
1) Being caught sawing up some fallen wood red handed by a local. He squinted as he looked at what I was doing, realised I was processing wood and then gave me a cheery wave and wished me a good day. Awesome. None of this "get off my land" which I expect. Perhaps he normally finds English fools burying bodies in his wood – I have no idea.
2) Finding a dead seal. It was the only seal we saw during the trip and was fascinating. Fern poked its eye socket with a stick which I thought was very brave.
3) Cooking a leg of lamb in a hole on the beach. I have always wanted to do this after eating traditional Māori food cooked in a "hangi" oven in NZ many years ago. So I dug a hole in the beach, made a big fire. Around the fire I put in a load of rocks and a couple of hours later when the rocks were very hot and the fire was just hot embers, I placed a layer of seaweed over the hot rocks, and lay the leg of lamb wrapped in tinfoil (yes I cheated) on top. Another layer of seaweed and then I covered it fully with sand. I left the buried lamb for a few hours and then dug it up and ate it. Next time I'll do it for four hours but the result was amazing. I had realised a dream and the lovely H, as always, fully supported my madness by bringing me Irish coffees (we debated if the scots actually call it Irish coffee) and preparing the food. She even raved about how delicious it was. Hee hee again. Awesome indeed.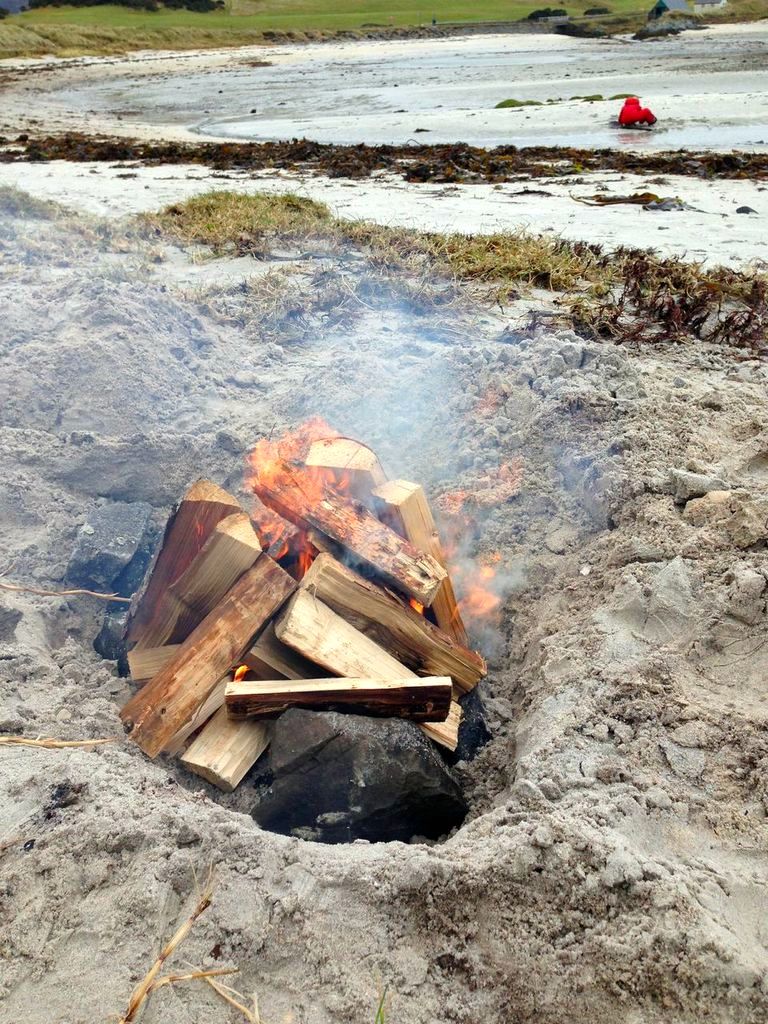 During all of this time, our children just played in the open air. When it rained they sat in the van, and when it stopped they got out. They didn't care that it was winter and neither did we.
It was now time for some physics. There were very few campsites open that we could use to charge batteries . We didn't want to stay in them but the vans heater (the mighty eberspacher) needs battery power. A lot. We were struggling to stay warm and that wouldn't do.
So I hatched a plan. We found an open campsite (someone's garden effectively) at Kilchoan on the Ardnamurchan peninsula. After chatting to the lovely owners who agreed that I could get things delivered to the campsite, I ordered two massive golf cart batteries (Trojan T105's to be exact) which would in theory give us ten days continuous heat without charging. They took two days to be delivered so we headed off on the ferry to Mull for two nights.
As a side note. We spent three nights in total on the Ardnamurchan peninsula and we were afraid that we wouldn't get off it before being assimilated. Everyone we met was English. Everyone we met worked in the post office. Everyone was effectively retired but was trying desperately to justify their existence. Weird.
The ferry to Mull was ace. We didn't see anything in terms of wildlife but we met someone Scottish. He rocked. I think he said "What the hell are you doing here in December" and then talked about ferry times. He liked his ferries.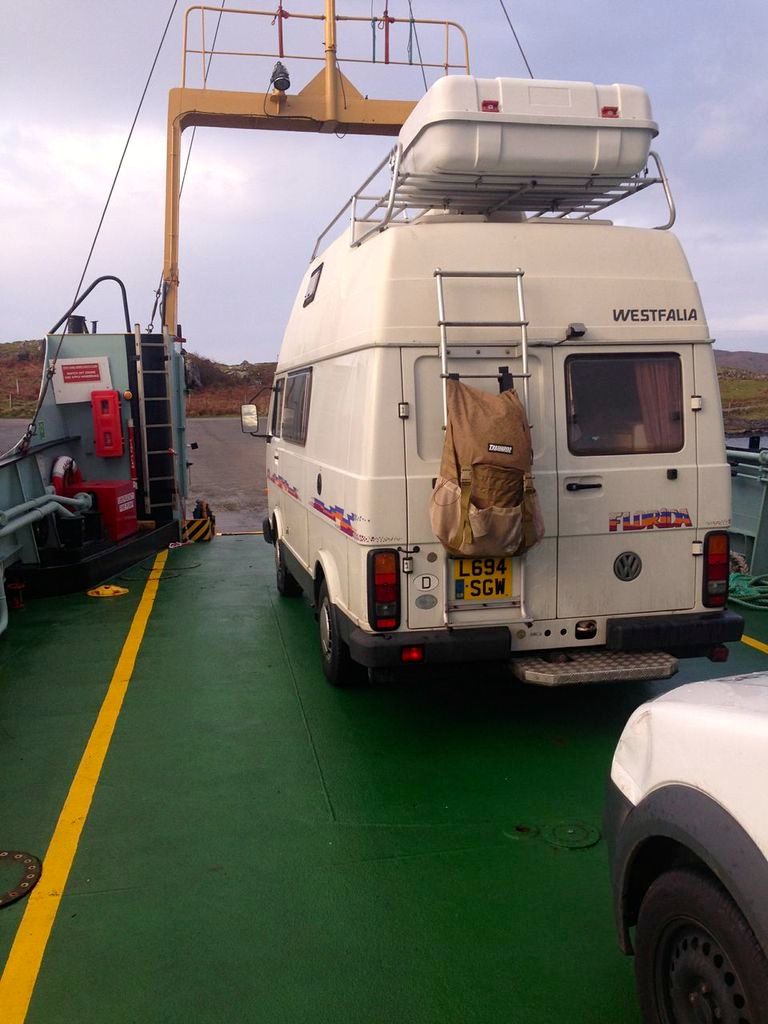 We landed in Tobermory and it all clicked together. There is a children's TV program in the UK called "What's the Story Ballamory" where everyone is happy all the time and make boring stuff sound great. Tobermory is where it is filmed.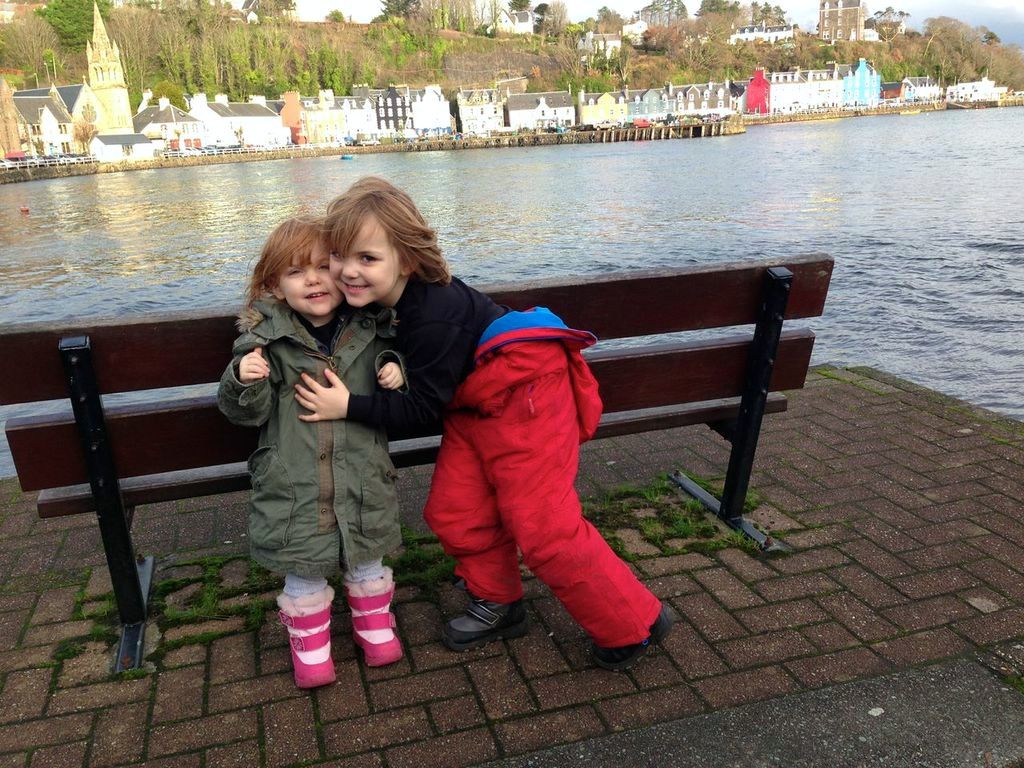 Anyway, after ice creams, a fill up of fuel (the fuel in Kilchoan is ridiculously expensive for some reason) and a stock up on food supplies we headed off to Calgary Bay for more adventures.
Calgary Bay is gorgeous if you ignore all the litter washed up on the beach. As usual, there weren't many people around and there were zero people wild camping. We took our time deciding where to park up for the night and ended up on the northern car park in a lovely spot overlooking the bay and the special moor land which had a hole so big in that Fern disappeared for a while. We walked on the beach, dug holes looking for razor clams (no such luck), built sand castles and generally had a lovely time.
I think it's worth talking about the warning a friend (Jed) gave us about going to Scotland in winter as he had done it several years earlier with his lovely family: You might get "Cabin fever". Its dark all the time (basically from 15:30 till 08:30) and you end up spending a lot of time in the van. This is very true. However, we didn't ever feel like that. I guess with the kids being so young and 16:00 being their dinner time, evening's kind of fell into place. We would get them to bed around 19:00 and then prepare our meal for the evening. Yes we had some early nights but it was more to do with falling asleep while reading a book in bed than anything. Heaven! One other way around the dark is to play while its daylight and then travel during the early evening hours. This meant it was dark when we arrived at sleepy spots but our torches ensured we didn't get into any bother. I like to think we were mentally prepared for the short days (thanks for the heads up Jed) but in reality seven hours of playing around in the fresh air with the kids was enough for us all!
After Calgary Bay we headed south and enjoyed the stunning scenery. We stopped and looked at a waterfall and then drove a bit further south where we parked up a bit further along from a couple of twitchers on Loch Na Keal. This was a stunning spot and we enjoyed climbing on the rocks and investigating the bare rock pools.
The weather started turning so after one final game of hide and seek, we retreated into the van for an Irish coffee and discussed the rest of the days plans. We were incredibly exposed on this spot and the wind was heading straight at us off the Atlantic. I was feeling a little nervous about spending the night here so we agreed that while we still had some daylight, we would hop over to the East of Mull and find a sheltered spot for the night. We ended up in a car park that was well set back from the road just south of Fishnish. It was a car park for one of the woodland walks setup for us tourists and was perfect. We played in a stream next to the van, had a small fire until the rain put it out and then retreated to the safety of the mighty Florida for the night. So after a good sleep and a quick woodland walk we headed back to Tobermory for some supplies. The ferry back to Kilchoan was calm and two huge batteries were waiting for us. Without further ado, we hot footed out of there before we were asked to work in the post office.
Conscious of the date and the lack of progress towards Applecross where I was feeling a real draw to for some reason, we got on another ferry at Mallaig to the Isle of Skye (after fish and chips and a two hour wait in Mallaig). We docked into the south of Skye at around 18:00 and were put onto a sleepy spot moments earlier (have technology – will use it) near Tokavaig. It was an exciting drive over the hills in the dark and fog on a single track road but I am extremely glad we did it. We expertly manoeuvred the florida over wet grass onto our mats into a lovely spot next to the sea. Within minutes dinner was being cooked and a fire was being built. Bizarrely it was very mild (6 to 10 degrees C) so we had a lovely evening outside enjoying the unspoilt skyline. This was what it was all about! We quickly agreed that we would stay here for at least two nights while supplies allowed.

Bright and early Fern and I went off and investigated the beach. I found an amazing bit of drift wood and started making things out of it while Fern prodded the fire and generally learnt about hot things. We cooked sausages on the fire and then went fishing (blank not surprisingly). I set the lobster pot at low tide with great hopes. The lovely H and Jules went off on their own adventure and trekked around the coast to a ruined building.
It felt like we had spent an age there when a local man (from England) came over to talk to us. It was bad news – the weather was turning for the worst again and we were right in its path. The nice man pointed to the house down the way that was missing a roof and suggested it was going to be that bad. We were more than welcome to move our van near to his house to get shelter but he highly recommended we moved our van. With wind and rain coming in I was also a bit worried if we would actually get the van off the wet grass we were parked on – so we immediately tried it while we had a nice man to help us should we get stuck. We didn't get stuck and drove off over to the other side of the Isle.
Bollocks. The rain came down and we hunted for another place to sleep. I won't bore you with the details, but we ended up in a dismal layby that seemed to offer us some protection from the increasing wind just up the road from the Sligachan Hotel (which was shut). It was another extremely windy night. The radio reported flooding in lots of places and there was a severe weather warning for the west of Scotland around the highlands. While I'm in this dark place remembering this particularly scary time, I'll tell you that we were stuck on Skye for two nights (all ferries and the bridge were closed) and the next day involved us doing 50 miles looking for a sheltered spot. That was some of the hardest driving I have ever done. The florida is like a huge waddling kite on a single track road in extreme winds and I had to concentrate a 100% to ensure we didn't get blown off the road by an unexpected gust (there were many). With winds up to 120mph and driving rains Skye didn't look too appealing. Anyway, enough of that…
The next day we got up and hatched a plan. I'd been to Talisker brewery before in the late 90's and remembered it fondly. As we were nearby and it was raining, the distillery tour seemed a good thing to do. The car park was empty and it was raining heavily. We ran around to the doors only to find them shut. Bugger. The website said it was open all year round – clearly not. At that point a rather jovial looking man popped his head out of a side door and shouted us in. They were shut to the public but his boss wasn't around so he would give us a quick tour. He talked fondly about the olden days and moaned about the new fangled computers that did his job for him. That's progress for you. Anyway, we had a good chat about VW's and eberspachers and then went on our way.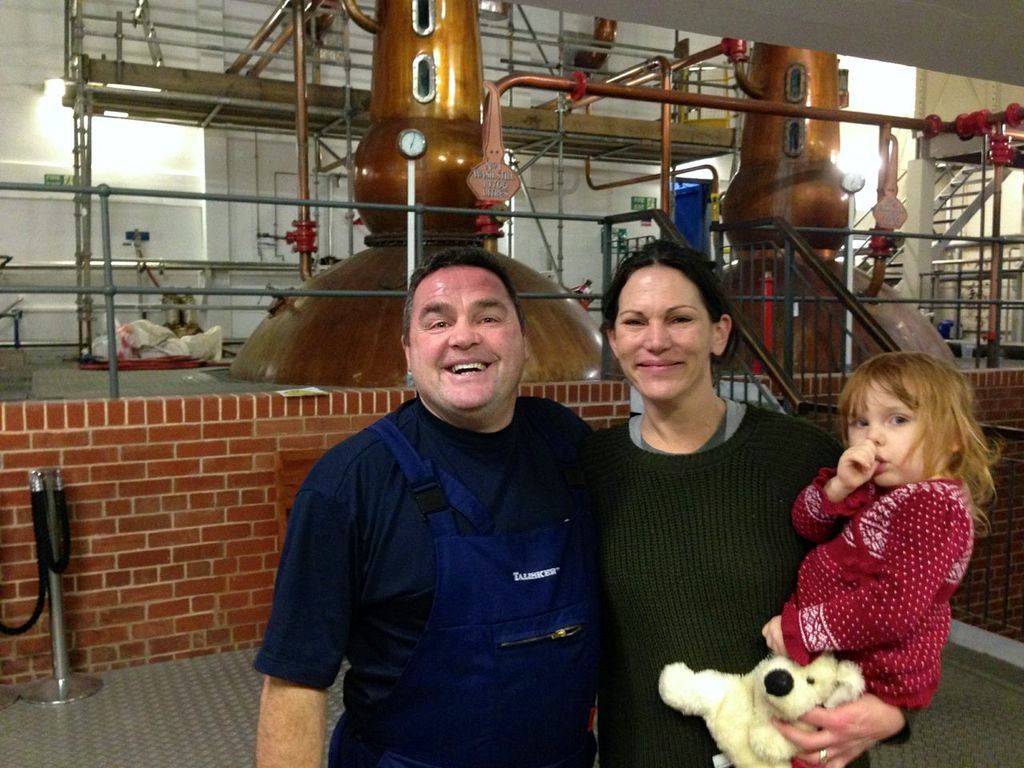 We ended up in the most sheltered space we could find which was not very glamorous. However, the kids showed no interest in going outdoors due to the weather so we just played games and ate food. I've had worse days that's for sure.
Early the next day it was calm again and we found out the bridge was open so we got off the isle. It was a real shame that we drove as fast as we could to get off Skye. We had great plans and even thoughts of seeing the northern lights. Ah well, we drove over the bridge, turned into the car park overlooking Skye and the lights of the houses in Kyleakin and had a bacon sandwich with a cup of tea. It was at that point that we felt the familiar rocking of the florida and the wind speed raised yet again. One minute we were thinking of driving to Applecross and the next our plans had changed to somewhere sheltered and safe.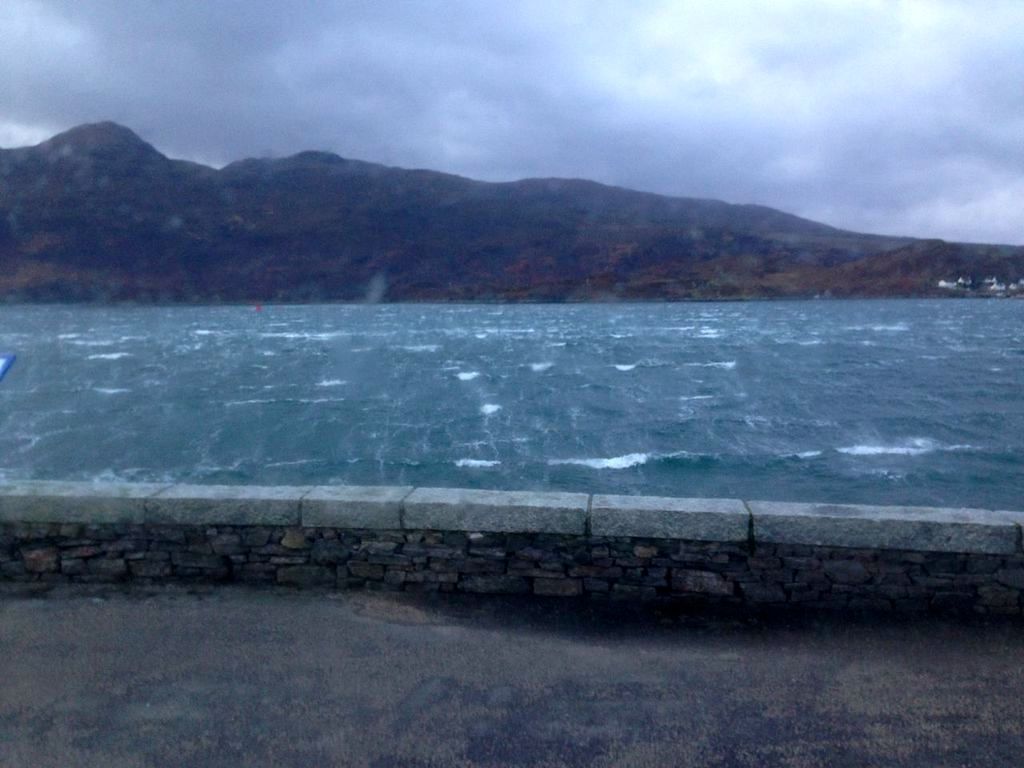 We always knew this could happen so we pointed to somewhere on the map and set off in our awesome campervan. We were heading to Aviemore via Loch Ness. Fingers crossed it would snow.
We stopped off at the Loch Ness museum and immediately stopped believing in the Loch Ness monster. It was a nice break of a day's travelling and I would recommend it. The whole route from Skye to Inverness was a fantastic drive. I kept eyeing up places for potential sleepy spots with day dreams of returning in better weather. Scotland really is a fantastic country. We got to Aviemore and stopped off in the town for a walk around. We soon felt the cool vibe of the place and started to pretend we were hip parents here for the ski season. Everyone was friendly and even though we were feeling a relatively new sensation of being around people, we felt very comfortable. It was a no brainer to head off up the mountain road to find a sleepy spot – of which there were plenty. We found some cracking spots mainly in the forest commission car parks. It didn't actually say we couldn't park overnight in them. The forest warden chap didn't seem too put out when I ran out in my pyjamas to quiz him on the legality of our stay. He said at this time of year no one is bothered and wished us a lovely stay. Hee hee.
We had four lovely peaceful days and nights in Aviemore and enjoyed it a lot. I missed the sea and our camp fires, but I loved the walks, the company and the vibe of Aviemore. It didn't snow unfortunately but we did get to spend a few hours with reindeers (at the reindeer centre of course) which was very cool. They had a BBQ shed. Yes – you read that right. A shed with a BBQ in it. I definitely want one of those. We spent a day at a wildlife park which is full of cold weather animals (polar bears and the like). You have to take your hat off to the Scottish. They know their weather is generally shit so they capitalise on it. Genius.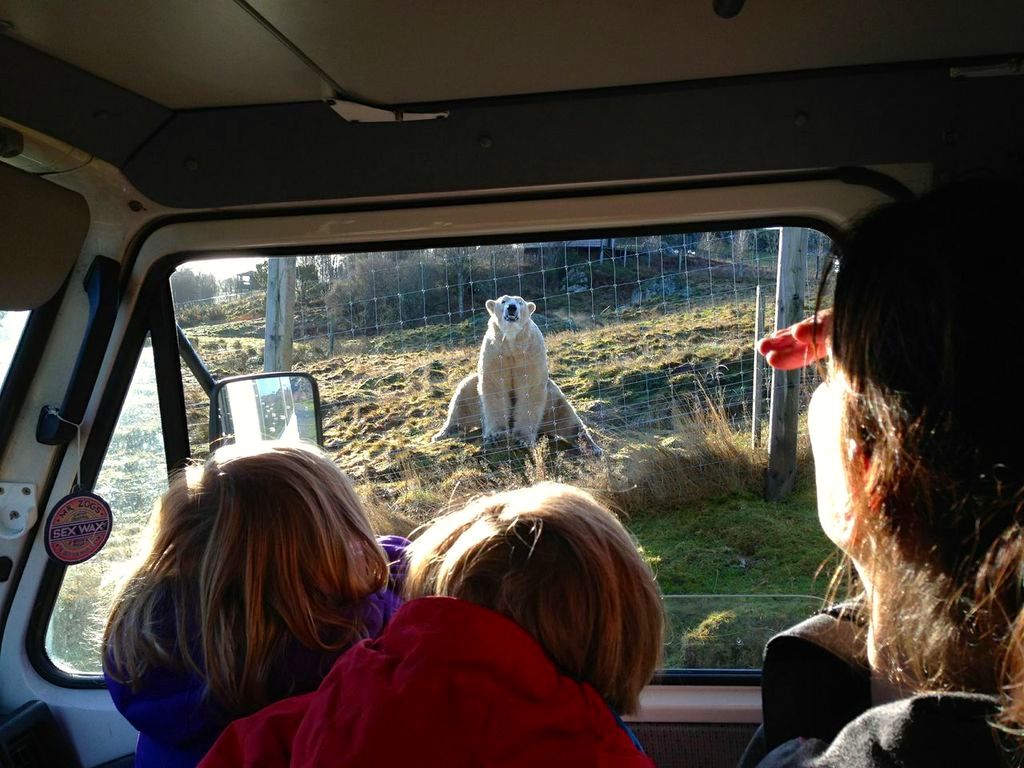 Nothing spectacular happened that I feel I need to write about – it was just nice.
I could have happily spent a few more days there but alas we were running out of time. One last breakfast next to Loch Morlich and we headed off to Edinburgh to stay in a full blown camp site. Showers and everything.
I had never been to Edinburgh before and thoroughly enjoyed our day there. We walked a lot and went into the "Camera obscura & world of illusion" which was great. We had lunch which cost a small fortune and the kids threw a paddy. Hee hee, we are good at the city thing. We hadn't lost it.